The literacy objective
Kalimat Foundation serves the rights of children who live in very difficult circumstances to read and develop capabilities in literacy. The objective being to support equitable development in education and society. Action largely resides in two domains: Arabic speaking children who have been forcibly displaced from their homelands, and children who are visually disabled.
Four initiatives have correspondingly represented the vanguard of the foundation and its work. An outset programme for book donations and Eid with them, both at Emirati Jordanian Camp in northern Jordan, were one-off endeavours in 2017 for the resident Syrians fleeing civil unrest. Pledge a Library delivers books to youngsters separated from their motherlands, whose subject matter helps to maintain cultural connections, support literacy and ease social integration. Ara, on the other hand, sets out to fulfil the objectives defined in the 2013 Marrakesh Treaty, contributing to the accession of the United Arab Emirates, through advocating and putting into action, the production and distribution of accessible content.
<! ========= Cool Timeline Free 2.6.1 =========>
Foundation programmes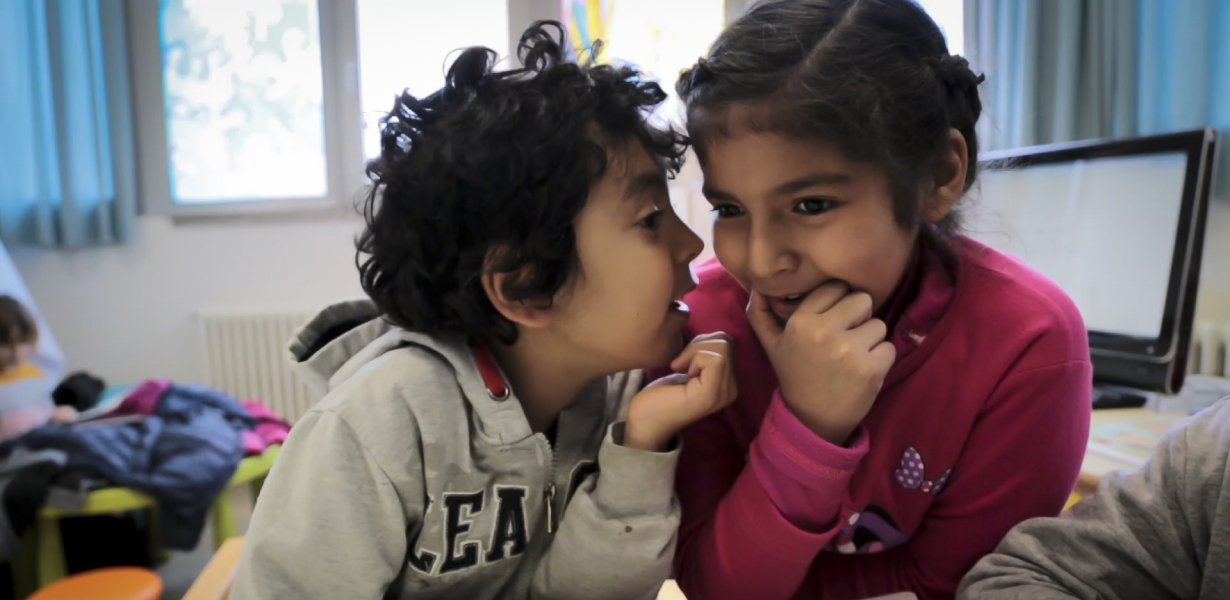 Outset programme and Eid with them
On these individual projects, in May and September 2017, Kalimat Foundation teams visited Mrajeeb Al Fhood, also known as Emirati Jordanian refugee camp. The purpose behind the first intervention was to deliver 1,000 books. As for the subsequent visit, the objective was to celebrate the Islamic Eid Al  adha festival with the children separated from homes and families, and deliver further gifts.
Pledge a Library
Pledge a Library delivers titles to forcibly displaced children from the Middle East, recently settled in countries in the region, in Europe, South America, or further afield. It also distributes books to those living amongst disadvantaged communities in places such as Kenya or the Somaliland region. The compact libraries provided each contain 100 Arabic language books.
To date 12,500 books have been committed and distributed in 17 countries. Close to 89,000 boys and girls are able to access these. Where the need for Kalimat Foundation libraries presents itself, recipients are evaluated on the youngster populations that can benefit, reading capabilities, and the potential gain in the foundation's contribution. Pledge a Library in this regard, donates to refugee camps, community centres, schools and universities, institutes, public libraries, hospitals and NGOs.
Pledge a Library has set foot in four continents and 17 countries, where 89,000 children have access to the foundation's books.
On average, with Pledge a Library book donations to libraries, schools, community centres and hospitals around the world; we understand that there are about seven children that have access to every one book delivered.
Pledge a Library book distribution timeline
Ara
Ara means 'I see' in Arabic and the Ara programme serves blind and visually impaired children, as well as those with print disabilities, by supporting the production of accessible Arabic content to help literacy and learning. Its purpose reflects objectives in the 2013 Marrakesh Treaty, on the availability of books in accessible formats.  Ara exists to develop capabilities in literacy, by providing reading content in print braille, large print, audio and accessible EPUB3. On average each child receives 10 accessible books. The education of regional publishers in born accessible technologies and workflows further stands under this umbrella. This comes thanks to a cooperative agreement with the Accessible Books Consortium, a partnership headed by the World Intellectual Property Organization, that embodies the likes of the World Blind Union, libraries for the blind, global standards authorities and publishing bodies.
Such a step has meant that Kalimat Foundation is the first organisation in the Middle East to facilitate training and technical workshops to publishers, to produce books in accessible EPUB3 formats in Arabic. Advantages here include read aloud functionality and compatibility with text-to-speech programmes, interactive text, bookmarks, tables of content, simple navigation and usage on a variety of electronic devices, marking significant progress in literacy support. A survey of blind and visually disabled youngster communities conducted across 20 countries in 2018 and 2019, commissioned by Kalimat Foundation, evidenced a need for children's stories, as well as books on history, the sciences, the arts and foreign languages, juxtaposed against a considerable regional shortfall inaccessible Arabic literary content.
In parallel, following the production of 30,000 accessible books under the Ara remit, 9,000 have been distributed or set in transit, locally, regionally and internationally. Ara adds to its remit, the development of greater awareness for visually disabled children across the Middle East, North and East Africa, to advance their social integration. In this regard, Kalimat Foundation has set baselines and benchmarks and produced case studies to aid policy making, in local, regional and international frameworks, to better serve blind and visually impaired youth.
With the significant void in reading resources for the blind and visually impaired in the region, Ara's drive to literacy means that on average, every one child receives approximately 10 audio, large print and print braille books.
In the survey of 223 organisations that care for blind youngsters in the Middle East, North and East Africa, there were on average seven children to every one teacher. In a number of cases the teachers were also blind or visually impaired.
Visual disability youngster proportions as reported by 61 out of 223 organisations.
Ara book distribution timeline
Accessible formats required to aid reading in %, reported by organisations