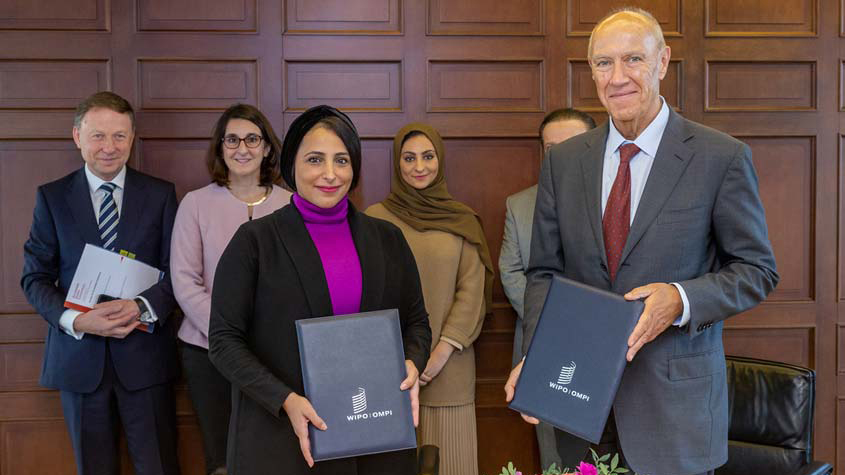 Date Posted

28 Nov 2018
The WIPO-led Accessible Books Consortium (ABC) and the Kalimat Foundation of the United Arab Emirates have agreed to collaborate on the production of a range of Arabic-language books specially adapted for use by children who are blind or visually impaired.
This agreement marks a first: an ABC partner is funding the production of its books "born accessible", meaning that no third party is needed to change texts into a format suited to the needs of blind or visually impaired persons – saving time and money in the spread of knowledge. ABC supports the venture by helping train Kalimat Foundation staff and publishers in the United Arab Emirates (UAE) in the latest accessible book production techniques.
The Accessible Books Consortium and the Kalimat Foundation are teaming up in a new effort that will help spread learning among Arabic-speaking youth, boosting their potential and contributing to general cultural and educational advancement.WIPO Director General Francis Gurry
"This is another example of how ABC is making concrete contributions to further the availability of accessible format books, delivering on the promise of the Marrakesh VIP Treaty. This is an innovative collaboration whereby WIPO provides accessible book training and technical assistance to publishers, which can then produce on their own a set number of their titles in accessible formats for the benefit of children who are blind or visually impaired. We hope that this approach to accessible publishing will be reproduced and bring us even more quickly to the day when we end what's known as the "global famine" of accessible books," Mr. Gurry said.
The WIPO-Kalimat agreement was signed by Mr. Gurry and Mrs. Bodour Al Qasimi, Founder and Chairperson of the Kalimat Foundation and Vice-President-elect of the International Publishers Association, which is a founding partner of the Accessible Books Consortium.
Video: WIPO DG Francis Gurry and Mrs. Bodour Al Qasimi, Founder and Chairperson of the Kalimat Foundation, sign agreement to collaborate on the production of a range of Arabic-language books adapted for blind or visually impaired children.
Every child must have access to the education, opportunities, and resources needed to read. Partnering with WIPO, a UN specialized agency, emboldens the Kalimat Foundation's efforts to ensure that young generations have access to books and knowledge, especially victims of war, those facing forced displacement, as well as specially-abled children.Mrs. Bodour Al Qasimi
The Kalimat Foundation was established by Mrs. Al Qasimi in 2016 to promote the "right of every child to read and to have access to books". The Foundation launched an initiative in 2017 called ARA, Arabic for "I can see", to provide reading material for blind and low vision children all over the Middle East and North Africa.
For its part, the ABC will send its experts to the UAE for a training workshop in accessible book production processes and will provide guidance in how publishers can adapt their workflow so as take advantage of the accessibility functions already available in standard publishing software. The Kalimat Group, an award winning publisher, will then produce in audio form 100 of its Arabic language children's books; the Kalimat Foundation will subsequently distribute these titles to blind and low vision children in the Arab-speaking world.
The large majority of these 100 titles are for children under the age of 12, written by Arabic language authors from the region. There is a dearth of Arabic language titles for children that are print-disabled, and this initiative is an important step in rectifying this issue.
ABC has shown itself to be an effective international alliance of relevant state and non-state actors with the goal of increasing the number of books worldwide in accessible formats - such as braille, audio, e-text and large print. Its activities are strategically aligned with a disability-inclusive 2030 UN Agenda particularly through its support of Sustainable Development Goal No. 4 on Quality Education.