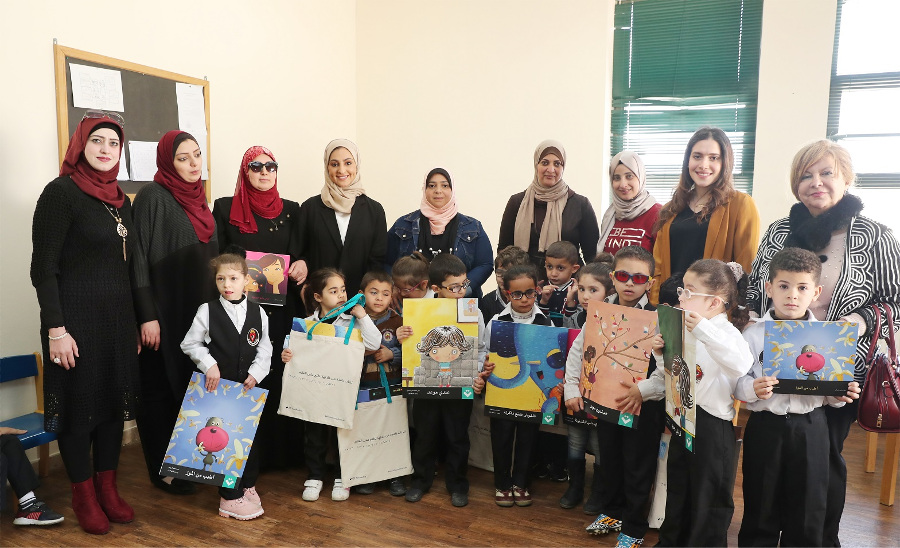 Date Posted

12 Apr 2019
The Kalimat Foundation for Children's Empowerment's ARA initiative, has distributed a total of 400 titles in audiobook, large-print and braille formats across four schools in Jordan and to a number of entities dedicated to helping the blind and visually impaired.

The donation drive comes in line with the ARA's vision to empower children with special needs and facilitate their access to knowledge.

The Sharjah delegation visited four centres of Al Diaa charity in Amman and were briefed about the services they provide to children with special needs. This initiative is expected to assist the academic pursuits of over 200 children, expand their knowledge and nurture their talents and expertise.

Amna Al Mazmi, Manager of Kalimat Foundation for Children's Empowerment, pointed out that the knowledge acquired through books offer a safeguard against various challenging circumstances, which are far greater for children with who are blind or visually impaired.

She said, "Kalimat Foundation continues its humanitarian efforts to make books and knowledge more accessible to children from different backgrounds and age groups. Making learning resources readily available to blind and visually impaired children is a top priority for us. Our ongoing projects are focused on reaching out to them wherever they are, and providing them books in accessible formats."

She added: "Our focus on visually impaired children stems from our belief that every child has the right to learn and grow fully through knowledge. Braille books are not easily available, and thus, kalimat Foundation has made all possible efforts to produce rich titles in this format and ensure they reach their beneficiaries."

Since its inception in April 2016, Kalimat Foundation has been engaged in an extensive programme of launching and implementing initiatives that facilitate the provision of public libraries and replenishing refugee camps with books. It seeks to give children in disadvantaged areas, access to sources of knowledge, in keeping with its dedication to ensuring every child's right to read. KF believes in the positive impact of books on creating a future knowledge-based Arab generation, that has a broad understanding of its own and of global cultures.