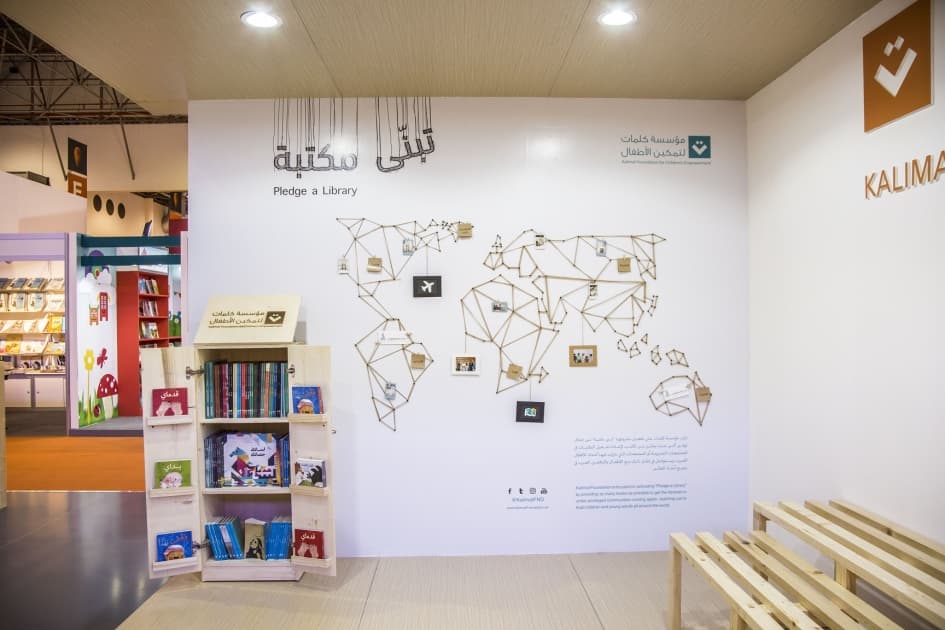 Date Posted

21 Nov 2017
Kalimat Foundation for Children's Empowerment (KF) has collected the first 100 libraries as part of its 'Pledge a Library' initiative to supply books to children in crisis situations, and all Arab refugee communities around the world.
Launched on the sidelines of KF's participation in the 36th edition of the Sharjah International Book Fair (SIBF 2017), the initiative will provide much-needed reading material to Arab youngsters living refugee camps and in Europe, USA and the rest of the world, providing them with the opportunity to preserve their Arabic language as well as their Arab culture, traditions and heritage.
Sheikh Sultan bin Mohammed bin Sultan Al Qasimi, Crown Prince and Deputy Ruler of Sharjah, has pledged the donation of the first set of libraries.
'Pledge a Library' was also supported by HE Sheikh Nahyan bin Mubarak Al Nahyan, Minister of Tolerance, Sheikha Jameela Al Qasimi, Director-General of Sharjah City for Humanitarian Services, HE Zaki Anwar Nusseibeh, Minister of State, HE Noura Al Kaabi, UAE Minister of Culture and Knowledge Development, Majid Hamid Jafar, CEO of Crescent Petroleum, Isobel Abulhoul, Festival Director of the Emirates Airline Festival of Literature, and Ali Obaid Bin Hatem, Founding Director of Thaqafa for Publishing and Distribution.
Amna Al Mazimi, Manager of KF, said: "Children in deprived areas and regions affected by wars have very limited access to sources of knowledge, especially books that allow them to explore the world and give them hope.
"Through the 'Pledge a Library' initiative, we look forward to seeing VIPs and other individuals contribute to bringing about change in the lives of those children and giving them access to books."
Al Mazimi underscored that the UAE will always one of the world's leading humanitarian centres, not only through delivering emergency relief assistance to disadvantaged people, but also through launching these sustainable cultural projects and initiatives that impact the lives of generations of people, particularly through reading, one of the most effective methods of elevating and developing communities.
Many organisations have also lent their weight to the initiative, most notably Sharjah Media Council (SMC), Sharjah Book Authority (SBA), Sharjah Islamic Bank (SIB), Sharjah Ladies Club (SLC), Knowledge without Borders (KwB), the '1001 Titles' initiative, and the UAE Board on Books for Young People (UAEBBY), among many others.
Since its inception in April 2016, Kalimat Foundation has been engaged in an extensive programme of launching and implementing initiatives that facilitate the provision of public libraries and refugee camps with books. It seeks to give children in disadvantaged areas access to sources of knowledge, in keeping with its dedication to ensuring every child's right to read. Kalimat Foundation believes in the positive impact of books on creating a future knowledge-based Arab generation that has a broad understanding of its own and of global cultures.